Visiting the Ferry Building
The Ferry Building is located along the Embarcadero at the foot of Market Street and is accessible by MUNI, BART, and ferry. The historic trolley cars (F Line Market) stop directly in front of the Ferry Building.
The Ferry Building Marketplace is closed Thanksgiving Day and Christmas Day. For more information, read our FAQs.
FERRY BUILDING WALKING TOURS
San Francisco City Guides, a local, non-profit volunteer organization currently offers regular walking tours on Saturdays and Tuesdays.
For more information, please visit www.sfcityguides.org 
Monday to Friday, 7:00am to 8:00pm
Saturday to Sunday, 7:00am to 8:00pm
Hours for individual businesses vary.
Please visit each merchant's page for specific hours.
Under the provisions of the California Health and Safety Code, "customers shall not bring any live animals into any food facility." We ask you to respectfully comply by not bringing your dog or other pets to the Ferry Building Marketplace or the Farmers Market. Exceptions: Guide Dog for the Blind, Signal Dog for the Deaf and/or Service Dog for the Disabled.
The Ferry Building is easy to get to from anywhere in Bay Area. For detailed driving directions, visit  Google Maps. There are a number of affordable parking options within a couple blocks of the Ferry Building. 
ProPark Parking Lot at Embarcadero & Washington
Validated rates:
$4 – 1st hour
$8 – 2nd hour
$8 each additional hour
$62 Max Daily Rate
$25 Flat Rate after 4pm
Validations available with purchase at Ferry Building Shops or Farmers Market Info Booth.
Golden Gateway Garage at Clay Street
$7 per hour Monday to Friday
$20 Flat Rate Monday to Friday by 9:30am
$8 all day Sat & Sun
Bicycle Share pick-up and drop-off station and motorcycle parking
Bicycle and Scooter parking
Accessible Parking
There are two spots just south and north of the Ferry Building, along northbound Embarcadero.
*Please visit individual parking vendors for accurate, updated rates.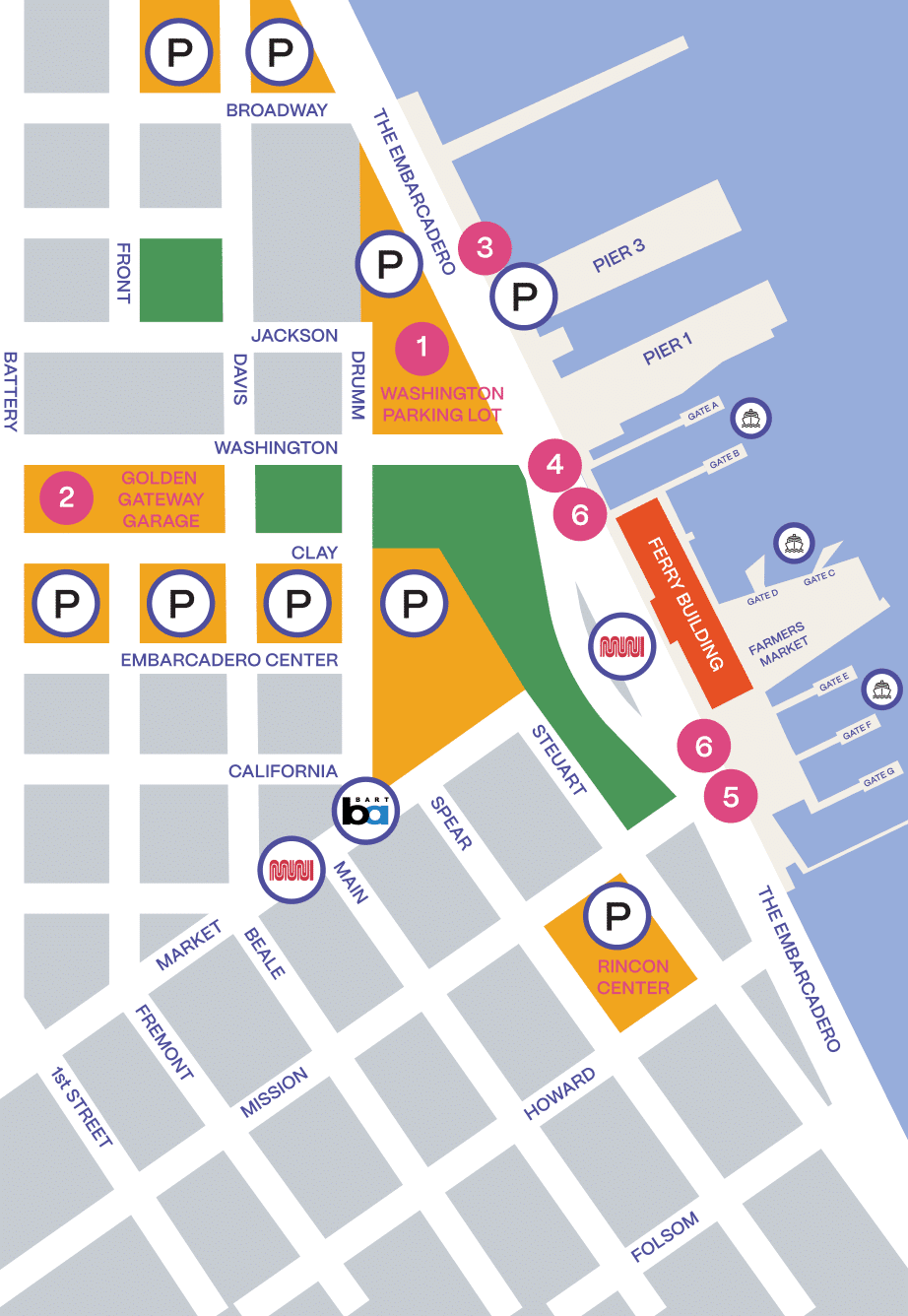 PUBLIC TRANSIT & BICYCLES
PUBLIC TRANSIT & BICYCLES
You can reach the Ferry Building by several ferry lines, all San Francisco BART lines, many MUNI lines, the F Market Streetcar, and the California Street Cable Car line. From the Peninsula, ride Caltrain and connect with Muni's N-Judah. Find Bay Area transit information, maps, and schedules at www.transit.511.org.
Bay Area Rapid Transit (BART)
Exit at the Embarcadero stop, just one block away.
Visit  www.bart.gov. 
SF Municipal Railway (MUNI)
Buses, trains, and streetcars all stop at or near the Ferry Building. Plan your trip at  www.transit.511.org.
The Embarcadero is easily accessed by bicycle. Bike racks are located in front of and behind the building. We recommend that you use a sturdy U-lock, as there have been incidents of cable-clipping. For more information, go to  
www.sfbike.org
.
FREQUENTLY ASKED QUESTIONS